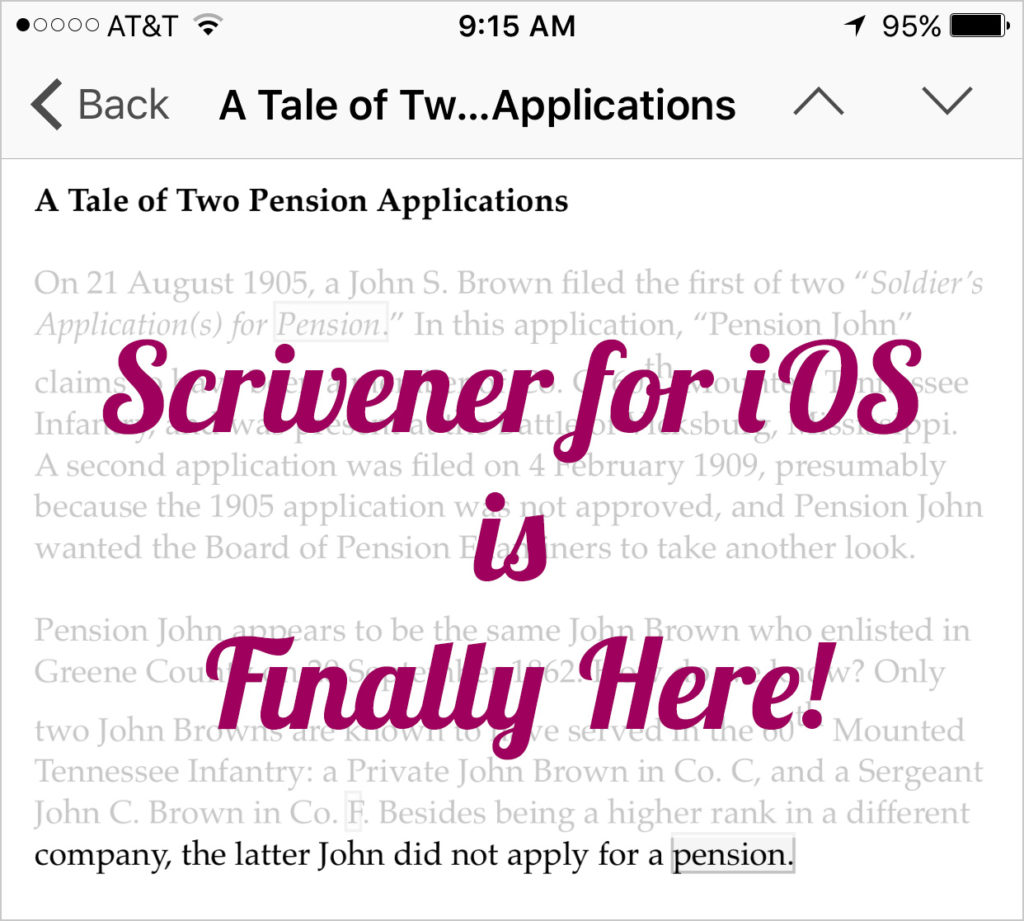 I was so excited to get an email earlier this week with the news that Scrivener – my very favorite writing software – was finally going to be available for iOS (sorry Android users, not yet). Scrivener for iOS connects to your saved Dropbox files, allowing you to access your writing from your iPad or iPhone.
This has been a loooong time in coming, and Scrivener fans have been impatiently sighing and drumming their fingers for what seems like ages. The app was released to the Apple App Store this morning, and I had already purchased a copy before I got out of bed! Wheee! 😀
Originally created for novelists and script writers, Scrivener is an awesome tool for anyone who likes to write… and if you're a genealogist, you probably like to write! In fact, many genealogists have already embraced Scrivener as their go-to writing software because it helps you write, outline, view your research, take notes, and organize everything in one, simple space.
I started using Scrivener last year when I was asked to write a review for the FGS FORUM (Spring 2016). Doing the review forced me to learn how to USE the software, and I'm so glad I did. I now use Scrivener for all of my writing, from outline to final product!
You can give Scrivener a whirl yourself with a free, 30-day trial. What's really cool is that they mean 30 ACTUAL DAYS of use. In other words, if you use it every day, it lasts fir 30 days; if you use it only two days a week, it lasts for fifteen weeks. Before the trial expires, you can export all of your work or buy a license to continue using it forever. Scrivener is available for Windows and Mac OS, with a Linux version still in beta.
If you need help getting started with Scrivener, check out Lisa Alzo's Scrivener Boot Camps, as well as her Scrivener for Genealogists (Windows) QuickSheet PDF eGuide.
Now that I'm awake and coffee'd, I'm having fun playing around with my shiny, new Scrivener for iOS. I am so thrilled to be able to access all of my "scrivenings" from my mobile device! 😀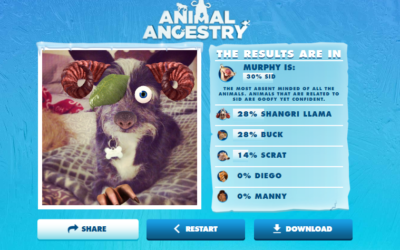 What does a goofy Animal Ancestry website, FamilySearch Indexing, a 220 year-old family Bible, and hand-made kilts have in common? Nothing, except that fact that I liked them!
read more